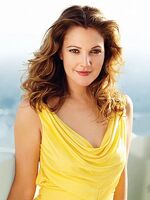 Drew Barrymore (born February 22, 1975) is an American actress, film director, screenwriter, producer, and model. She is a descendant of the Drew family and Barrymore family of iconic American stage and cinema actors, and she is the granddaughter of film legend John Barrymore.
She is best known to this wiki for portraying Elliot's five year old sister, Gertie.
External Links
Edit
Ad blocker interference detected!
Wikia is a free-to-use site that makes money from advertising. We have a modified experience for viewers using ad blockers

Wikia is not accessible if you've made further modifications. Remove the custom ad blocker rule(s) and the page will load as expected.